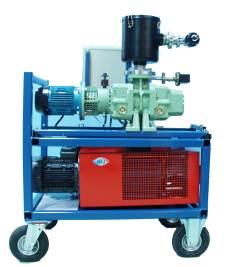 Rotary vane vacuum pumps Mil´s. Do you need a rotary vane vacuum pump? We have many sizes.
Rough vacuum pumping, backing another pump and pump for vacuum drying, central vacuum systems, vacuum forming, drying, distillation, degassing, freeze drying, vacuum packaging, pumping system in combination with roots pump.
Very reliable pumps that we also use in our own vacuum systems that we produce since many years.
---
Mil´s Vacuum pumps E17-E600
---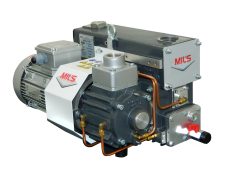 Evisa E17 HV
Nominal Capacity: 19.2 m3/h
Pneurop Capacity: 18 m3/h
Final vacuum without Gas Ballast: 0.5 mbar (abs)
Final vacuum with Gas Ballast: 1.5 mbar (abs)
Motor Power: 0.55 kW
Rotation speed (50 Hz): 920 rpm
Noise level: 59 dB(A)
Oil filling: 1.5 dm3
Weight: 36 kg
Vacuum-Flange: 1"
Article-Number 3 ph: I16210 (821150)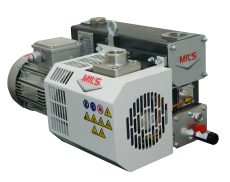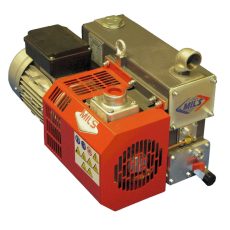 Evisa E25 HV
Nominal Capacity: 30 m3/h
Pneurop Capacity: 28 m3/h
Final vacuum without Gas Ballast: 0.5 mbar (abs)
Final vacuum with Gas Ballast: 1.5 mbar (abs)
Motor Power: 0.75 kW
Rotation speed (50 Hz): 1435 rpm
Noise level: 60 dB(A)
Oil filling: 1.5 dm3
Weight: 39 kg
Vacuum-Flange: 1"
Article-Number 3 ph: I16212 (821151)
Article-Number 1 ph: I16213 (821148)
Mil's Evisa-serie: pumping curves, evacuation times, drawings, PDF-file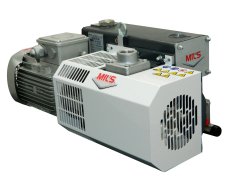 Evisa E40 HV
Nominal Capacity: 47.7m3/h
Pneurop Capacity: 41.5 m3/h
Final vacuum without Gas Ballast: 0.5 mbar (abs)
Final vacuum with Gas Ballast: 1.5 mbar (abs)
Motor Power: 1.1 kW
Rotation speed (50 Hz): 1430 rpm
Noise level: 62 dB(A)
Oil filling: 1.5 dm3
Weight: 52 kg
Vacuum-Flange: 1"
Article-Number 3 ph: I16214 (821152)
---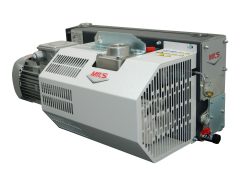 Evisa E65 HV
Nominal Capacity: 64.3 m3/h
Pneurop Capacity: 59 m3/h
Final vacuum without Gas Ballast: 0.5 mbar (abs)
Final vacuum with Gas Ballast: 1.5 mbar (abs)
Motor Power: 1.5 kW
Rotation speed (50 Hz): 1420 rpm
Noise level: 65 dB(A)
Oil filling: 4 dm3
Weight: 75 kg
Vacuum-Flange: 1 1/4"
Article-Number 3 ph: I16215 (823756)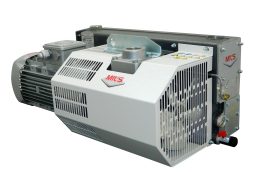 Evisa E100 HV
Nominal Capacity: 96 m3/h
Pneurop Capacity: 94 m3/h
Final vacuum without Gas Ballast: 0.5 mbar (abs)
Final vacuum with Gas Ballast: 2 mbar (abs)
Motor Power: 2.2 kW
Rotation speed (50 Hz): 1440 rpm
Noise level: 65 dB(A)
Oil filling: 4 dm3
Weight: 85 kg
Vacuum-Flange: 1 1/4"
Article-Number 3 ph: I16216 (823740)
Mil's Evisa-serie: pumping curves, evacuation times, drawings, PDF-file
---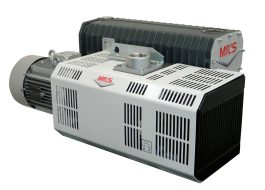 Evisa E200 HV
Nominal Capacity: 198 m3/h
Pneurop Capacity: 190 m3/h
Final vacuum without Gas Ballast: 0.06 mbar (abs)
Final vacuum with Gas Ballast: 1 mbar (abs)
Motor Power: 4 kW
Rotation speed (50 Hz): 1455 rpm
Noise level: 67 dB(A)
Oil filling: 5 dm3
Weight: 140 kg
Vacuum-Flange: 2"
Article-Number 3 ph: I16218 (821156)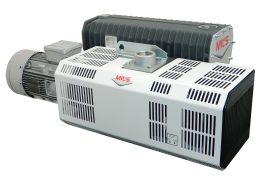 Evisa E300 HV
Nominal Capacity: 288 m3/h
Pneurop Capacity: 263 m3/h
Final vacuum without Gas Ballast: 0.1 mbar (abs)
Final vacuum with Gas Ballast: 1.2 mbar (abs)
Motor Power: 5.5 kW
Rotation speed (50 Hz): 1450 rpm
Noise level: 73 dB(A)
Oil filling: 7 dm3
Weight: 190 kg
Vacuum-Flange: 2"
Article-Number 3 ph: I16219 (821157)
Mil's Evisa-serie: pumping curves, evacuation times, drawings, PDF-file
---
Evisa E400 HV
Nominal Capacity: 426 m3/h
Pneurop Capacity: 410 m3/h
Final vacuum without Gas Ballast: 0.1 mbar (abs)
Final vacuum with Gas Ballast: 1.2 mbar (abs)
Motor Power: 9 kW
Rotation speed (50 Hz): 967 rpm
Noise level: 74 dB(A)
Oil filling: 10 dm3
Weight: 380 kg
Vacuum-Flange: DN80
Article-Number 3 ph: I16221 (821174)
Evisa E500 HV
Nominal Capacity: 513 m3/h
Pneurop Capacity: 496 m3/h
Final vacuum without Gas Ballast: 0.1 mbar (abs)
Final vacuum with Gas Ballast: 1.2 mbar (abs)
Motor Power: 11 kW
Rotation speed (50 Hz): 967 rpm
Noise level: 74 dB(A)
Oil filling: 10 dm3
Weight: 420 kg
Vacuum-Flange: DN80
Article-Number 3 ph: I16222 (821175)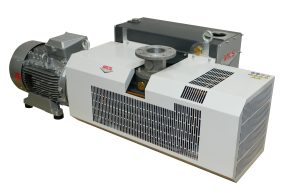 Evisa E600 HV
Nominal Capacity: 632 m3/h
Pneurop Capacity: 597 m3/h
Final vacuum without Gas Ballast: 0.1 mbar (abs)
Final vacuum with Gas Ballast: 1.2 mbar (abs)
Motor Power: 15 kW
Rotation speed (50 Hz): 967 rpm
Noise level: 75 dB(A)
Oil filling: 10 dm3
Weight: 450 kg
Vacuum-Flange: DN80
Article-Number 3 ph: I16223 (821176)
Mil's Evisa-serie: pumping curves, evacuation times, drawings, PDF-file