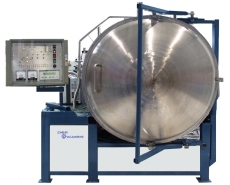 Helium leak testing systems
We produce helium leak testing systems for testing aluminum castings, SF6-gas circuit breakers, AC-components, LPG tanks, fuel rails and many other products.
We have more than 40 years experience of producing these systems for leak tests of different products. The leak testers are manufactured in appliance to Swedish and international standards. We have delivered helium leak test machines to, among others, ABB, Ericsson, AstraZeneca and Pharmacia & Upjohn. Most helium leak testing machines are exported within Europe and to Asia.
Our automatic helium leak testing systems - how they work.
Our HMI (human machine interface) PC-programs
Leak rate units and conversion factors
Helium leak location or helium leak testing
---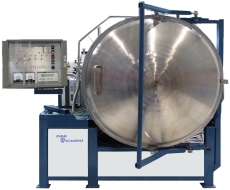 Our automatic helium leak testing systems - how they work. Helium leak test procedure.
A helium leak detector is a part of our helium leak testing systems and helium is used as trace gas. A helium leak test system controls if a products leaks more than is acceptable. It can measure the leak rate.
In most systems the testing is made by loading the product into a vacuum chamber and connecting a vacuum bellow to the product. The product and the chamber is pumped to a low vacuum level. Helium is put into the object and the concentration of helium inside the chamber is measured.
In some cases the product is already filled with helium when it arrives at the testing station. It might have been filled with one of our vacuum decay leak test systems with gas filling.
We have developed a computer simulation program that enables us to find how to get the lowest cost of testing. You tell us about the object to be tested. Its size, inner volume and material together with the maximum allowed leaking in mbarl/s, sccm, or gram per year. Also what gas like SF6 or hydrogen or liquid that might leak. We also need to know the maximum cycle time. We can do leak rate conversion and calculate from leak rate units for example in gram/year or in bubble test under water, from one bubble per minute into the leak rate unit the helium leak detector and we use which is mbarl/s. With the simulation program we can test what cycle time we get with different numbers of pumps, different sizes of pumps and different kinds of pumps. We also calculate with different pressure of helium and with mixtures of gases with a certain content of helium. The aim is to get the desired production capacity at the lowest cost. This includes the cost of helium.
We make a gross leak testing first and stop the cycle before using any tracer gas if the object has a big leak. We use automatic system calibration using Adixen Alcatel calibrated helium leaks with traceable leak certificates. Most systems test at 10-7 to 10-1 mbarl/s but we can test below 1 x10-10 mbarl/s. We normally do leak detection with helium as tracer gas, but the Adixen helium leak detector can be used also on mass 2 or 3. We can also make systems with other tracer gases using a SRS quadrupole mass spectrometer.
---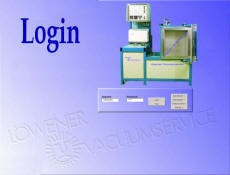 Our HMI (human machine interface) PC-programs
Our machines are PLC-controlled. They can also be delivered with our own developed HMI (Human Machine Interface) PC-programs running under Windows®. The HMI-program is made especially for each system to make the running of the system as easy as possible. We use CitectSCADA or Beijer iX. There are different levels with different passwords, normally administrator and operator. You can see which valves are open and which are closed, which pumps are running and vacuum levels. Fault indications are described fully like roots roughing pump not running or helium pressure to low. All important parameters are logged. The operator often start by putting in order number, batch number and serial number (or a bar code reader is used) and these data are saved together with the test result.