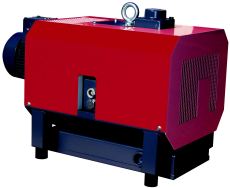 Dry claw vacuum pumps Mil´s. Oil-free. Do you need a dry claw vacuum pump? We have many sizes.
Central vacuum systems. Rough vacuum pumping, vacuum packaging. For holding components to be moved, for holding objects in place.
Mil's Sirella-series.Dry, oil-free, contact-less vacuum pumps that need a minimum of maintenance. 95-320 m³/h. 1 Atm - 50 mbar. Min 150 mbar continuous running.
---
Vacuum pumps Sirella 100-350
---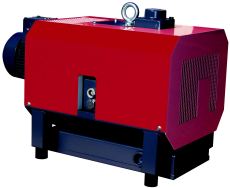 Sirella 100
Nominal Capacity: 95 m3/h
Final vacuum : 50 mbar (abs)
Continuous vacuum: 150 mbar (abs)
Motor Power (50 Hz): 3 kW
Weight: 150 kg
Vacuum-Flange: 1"
Article-Number 3 ph: I16400
Sirella 150
Nominal Capacity: 145 m3/h
Final vacuum : 50 mbar (abs)
Continuous vacuum: 150 mbar (abs)
Motor Power (50 Hz): 4 kW
Weight: 165 kg
Vacuum-Flange: 1 1/4"
Article-Number 3 ph: I16401
Sirella 250
Nominal Capacity: 250 m3/h
Final vacuum : 50 mbar (abs)
Continuous vacuum: 150 mbar (abs)
Motor Power (50 Hz): 7.5 kW
Weight: 290 kg
Vacuum-Flange: 2"
Article-Number 3 ph: I16402
Sirella 350
Nominal Capacity: 320 m3/h
Final vacuum : 50 mbar (abs)
Continuous vacuum: 150 mbar (abs)
Motor Power (50 Hz): 9 kW
Weight: 305 kg
Vacuum-Flange: 2"
Article-Number 3 ph: I16403
---
Mil´s Sirella vacuum pumps, consumables
---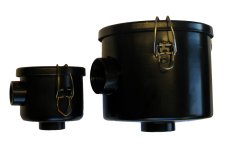 Particle filter

| Article number | Filter | Capacity m3/h | Connection |
| --- | --- | --- | --- |
| F30103 | F.003 | 150 | 1 1/4" |
| F30105 | F.005 | 190 | 1 1/2" |
| F30106 | F.006 | 300 | 2" |
| F30108 | F.007 | 510 | 3" |